At a recent Board of Directors meeting, each Director of ECI REC selected a member-consumer from their individual district to serve on ECI REC's Nominating Committee. The committee's purpose is to nominate one to two East-Central Iowa REC members to be placed on the ballot as candidates for the Director positions up for election. The vote will take place at the 2021 Annual Meeting of the Members.
There are three positions up for election. You can find more information on these individual Board Districts below. If you are interested in being a candidate for one of the positions, would like to make a recommendation, or have a petition nominating a member, please contact the Nominating Committee member representing the District that you or the nominee could represent. Nominations may also be submitted to the Urbana office.
Nominations by petition must have 35 names. Candidates must live in the District they could potentially represent. All nominations must be registered at the Urbana Administrative Headquarters before 11:00 a.m. on Thursday, February 18, 2021. On that date, all candidates will be reviewed and nominations confirmed at a meeting of the Nominating Committee.
Learn about the duties of a Director from Board President Steve Rau.
BOARD DISTRICT #6
Currently represented by Don Shonka, Independence
Serving: Homer, Sumner, and Washington Townships in Buchanan County.
Nominating Contact:
Charles Mazur
2142 262nd St.
Independence, IA 50644
Phone: 319-938-2831
BOARD DISTRICT #8
Currently represented by Nick Donlea, La Porte City
Serving: Barclay, Big Creek, Fox, Lester, Poyner, and Spring Creek Townships in Black Hawk County; Fairbank, Jefferson, Perry, and Westburg Townships in Buchanan County.
Nominating Contact:
Randy Merkel
1339 190th St.
Independence, IA 50644
Phone: 319-240-7221
BOARD DISTRICT #10
Currently represented by Ryan Kress, Winthrop
Serving: Byron, Cono, Fremont, Liberty, Middlefield, and Newton Townships in Buchanan County; Adams and Prairie Townships in Delaware County; Grant Township in Linn County.
Nominating Contact:
Carl Dodge
2418 Buchanan Delaware Ave.
Masonville, IA 50654
Email: carldodge@gmail.com
Phone: 563-920-3878 (call or text)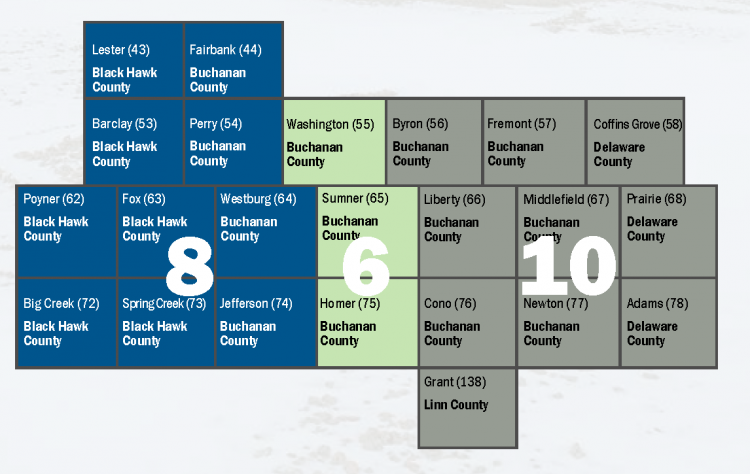 ---
SAVE THE DATE!
ECI REC's Annual Meeting of the Members
Thursday, June 17, 2021
• Registration begins at 10:30 a.m.
• Business meeting begins at 11:00 a.m.
• Location/meeting platform to be determined