Message From the CEO
Over the past several months, your Cooperative has been reviewing our recent cost-of-service study. The purpose of this study is to assess our current rate structure, increased costs, and the strategies or changes that may be needed to ensure the long-term financial health of ECI REC. The number-one reason we go through this process is to determine if our current rate structure is collecting enough revenue to support your Cooperative.
As members, it's important that you understand what makes up the rate you pay for your electricity, especially as we face changes in 2023.
The cost-of-service study considers the fixed costs, energy costs, demand (capacity) costs, and any current and future projections of what is needed to provide highly safe, 99.98% reliable, environmentally responsible electricity at a fair cost. The study looks at our current rate structure and trends in the industry for rate diversification.
The end goal is to establish continuity between rate classes that are both fair for the membership and equitable for the viability of ECI REC to continue serving safe and reliable electricity.
Below are brief explanations of the three cost categories considered by the cost-of-service study:
Facility Charge. This is a flat monthly charge that represents the fixed costs of making electricity available to your meter.
Regardless of how much energy you consume, equipment is required to deliver it to your home or business. ECI REC continues to make significant investments in our 25 substations; 2,293 miles of distribution line and poles; meters; transformers; facilities; trucks; technology; and great employees. Your Cooperative provides the necessary infrastructure for delivering power. The perfect facility or fixed-rate scenario would be that we collect all our fixed costs, or the true cost of service to deliver energy to you 24/7, 365 days a year. At present, ECI REC collects about 75% of the actual fixed costs via the Facility Charge. The remaining "shortfall" needed to make up those fixed costs is currently collected in the first block of energy (first 1,000 kWh used).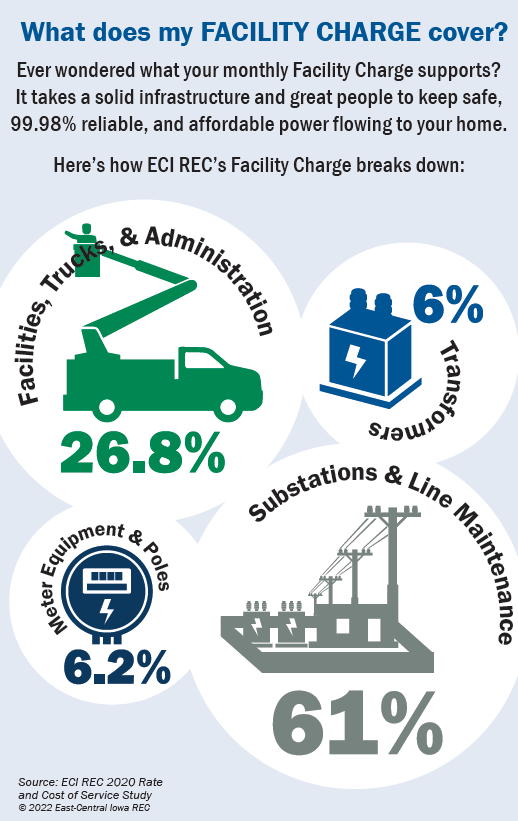 Energy Charge. In addition to recovering a portion of the fixed costs, the Energy Charge includes the cost of wholesale power we purchase from our power provider, Central Iowa Power Cooperative (CIPCO).
The cost-of-service study looks at wholesale power cost trends, which represent 60% of ECI REC's annual expenses. Our power provider has experienced significant increases in the purchased power market, which has led them to increase ECI REC's wholesale power rates three times in 2022. The total increase of nearly one cent ($0.01) per kWh is estimated to amount to over $925,000 in additional wholesale power costs. This trend of higher wholesale power costs is expected to carry into 2023. ECI REC's current rates have a two-tiered Energy Charge—the goal for future rates is to simplify and move to one Energy Charge.
System Demand (Capacity) Charge. This charge applies to member facilities that require a large amount of electricity during a short period of time (even if it is only for an hour).
These kinds of large energy demands require bigger wires to get energy to the member's meter, bigger poles to carry the bigger wires, and transformers and breakers large enough to handle the electric load. The System Demand Charges can be as high as the Energy Charges (kWh usage) ECI REC sees on our wholesale power bill. Most member rate classes put demand on the Cooperative's distribution system; currently, a portion of the cost of system demand is recovered in the Energy Charge.
Your Cooperative's current strategy for electric rates is to move toward collecting more of our fixed costs in the Facility Charge and simplifying the Energy Charge component. This approach minimizes subsidies amongst rate classes. In the future, the demand for energy, and the way our members use energy, will evolve. The fixed costs recovery component provides a foundation for future rate-making strategies.
Like our members, ECI REC cannot predict the economy or the weather. However, we can try to be as transparent as possible and keep our membership informed. Regardless of the potential challenges we face, electricity remains a good value. As we work to complete our review of the cost-of-service study and determine what rates need to be for 2023, we remain committed to our mission and vision: To demonstrate the advantages of your member-owned Cooperative and make a difference in the lives of those we serve.